My new book, The Inca Code, is coming out in June.  It's the second book in the Pete Chandler series.  In this book, you can follow him as he goes to Ecuador, Peru, and Machu Picchu to solve the mystery behind an old friend's death in Ecuador.  Pete becomes tangled in the shady activities of his friend before he died.  Several forces think Pete is involved and the focus turns on him—with dangerous results.  Soon, Pete has to fight for his own survival while trying to uncover the ancient mystery of the Inca Code.
There is a special, two day only,  Sale of the ebook version.  Here are the details:
At 7:00 am on June 9, the ebook will be on sale for $ .99
At 3:00 am on June 10, the price goes to $1.99.
On June 11, the price is back to normal at $2.99.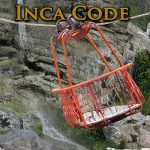 Of course, you can also buy the print version at the same web site.  https://www.amazon.com/Inca-Code-Chandler-Travels-World-ebook/dp/B06Y5TPL2Q/ref=sr_1_1?s=books&ie=UTF8&qid=1494954100&sr=1-1&keywords=colin+nelson
Check out the site on June 9 and get the sale price on The Inca Code.  You'll be hooked on the story!!